Cotai Water Jet Treasure Hunt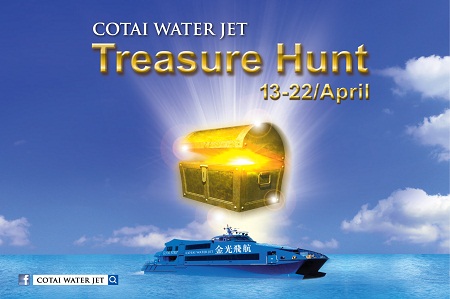 Visit Cotai Water Jet Facebook fanpage NOW to win awesome prizes!
Promotion period: 13 - 22 April 2015
Terms and Conditions:
This promotion is organized by Cotai Water Jet ("CWJ").
The Promotion period of "Cotai Water Jet Treasure Hunt" campaign starts from 13th April 2015 at 12:00 pm and ends on 22nd April 2015 at 23:59.
People who want to enjoy must become Fans first and need to Like Cotai Water Jet Facebook page.
Participants who are found to use plug-ins or other informal methods such as empty numbers or fake accounts in this campaign, Cotai Water Jet will cancel their eligibility without any prior notice.
We collect all personal data you provide us during your participation in this Promotion (including your name, address, email address, telephone number and any data related with your participation in this promotion) for the purposes of the promotion and for direct marketing purposes (in respect of our news, promotions and other services), to improve database segmentation and customization of marketing offers, for market research around consumer preferences and to conduct statistical and satisfaction surveys. Your personal data may also be transferred to certain third party service providers (including third party marketing companies). You have the right to view your personal data, request additional information about its storage and processing require any necessary amendments, withdraw the consent herein or simply opt-out from receiving direct marketing materials from us, by emailing us at customer-hsf@cks.com.hk. Your personal data will be kept during your participation in this promotion and for marketing purposes for the period of time that the sub-concession agreement that Cotai Ferry Company Limited is a party to for the operation of promotions of fortune.
By participating in this promotion, you authorize Cotai Ferry Company Limited to collect, use, store and process automatically or mechanically any personal data provided by you or any data related to your participation in this promotion as referred to above (hereinafter the "Data"), for the purposes above mentioned. Supported Browers include: IE9.0 or above, Firefox, Google Chrome and Safari. You also authorize Cotai Ferry Company Limited to use and process any photos or films which captured your image during the promotion for corporate and advertising purposes and in press releases, book outlets, magazines, facebook and other fan pages owned or operated by us.
Supported Browers include: IE9.0 or above, Firefox, Google Chrome, Safari, or Andriod browsers.
Each participant can play the game one time on an individual basis, and will receive an additional chance by inviting 3 or more friends, each participant can get to play up to total of 3 times.
This campaign offers a total of 570 prizes, including:

500 Special Cotai Water Jet souvenirs.
10 Cotai Water Jet single trip City route Cotai First tickets.
20 Cotai Water Jet single trip City route Cotai Class tickets
40 Sands China Ltd dining voucher valued at MOP 50.
Each participant can only win one prize at any one time.

The Grand Prize of this campaign includes:

One Night Accommodation in Royale/Bella Suite in Holiday Inn of Sands Cotai Central (1 unit)
Each participant can only win one prize at any one time.

Cotai Water Jet will inform winners through individual emails. Any unsuccessful delivery due to omission or wrong information, participants will be not be eligible to participate. The Grand Prize winner will be informed on Cotai Water Jet Facebook fans page on 27th April 2015. All the winners will receive an individual email within 5 days.
Winners should redeem the prizes by going to Cotai Water Jet ticketing counters located at (Shop 305N, Shun Tak Centre, 200 Connaught Road, Sheung Wan, HK) or Cotai Water Jet Ticketing Counter at Macau Taipa Ferry Terminal before specified date. No claims will be entertained after the specified date and the claim will be null & void.
Winners must present the original documents of ID card and reward letter when redeeming the prizes. Assignee must present the commissioned signed letter, the copy of winner's ID card, the original ID card of assignee and the reward letter.
Cotai Water Jet will not be responsible for lost or stolen prizes and will not entertain any claims for a refund.
The prizes are NOT exchangeable for cash, coupons, or certificates and subject to the terms and conditions outlined in this campaign. Valid date and terms & condition of prizes on Cotai Water Jet voucher and Sands China Ltd dinning voucher are final and shall prevail.
This promotion is subject to Terms & Conditions of Carriage of Passengers and Luggage.
Cotai Water Jet reserves the final rights to this promotion.
Cotai Water Jet Ticketing Counters:
Hong Kong Macau Ferry Terminal
(Shop 305N & 305D, Shun Tak Centre, 200 Connaught Road, Sheung Wan, HK)
China Ferry Terminal (Hong Kong Kowloon)
(Shop 1-5A, 1/F China Ferry Terminal, 33 Canton Road, Tsim Sha Tsui, Kowloon)
Macau Taipa Ferry Terminal (Departure Hall)
Macau Outer Harbour Ferry Terminal (Counter 30-31, Level 2)
VMRH; Cotai Travel (Shop 1028)
Sands Cotai Central; Cotai Travel (Shop 1030)
Hong Kong International Airport
(Transfer Area E2, Level 5, Hong Kong International Airport Passenger Terminal Building One)