Digital Platforms "Special for You" Campaign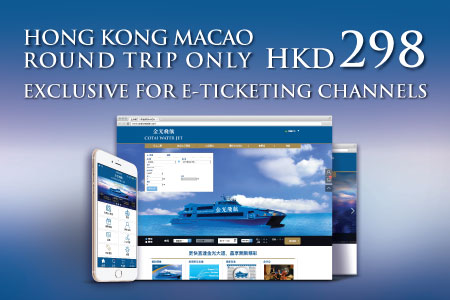 From 19 June to 29 July 2018, website users can enjoy discounted round-trip package in Cotai Water Jet Digital Special Discount Zone ("Campaign").

City Route
Cotai Class discounted round-trip package will be available at HKD 298 (including tax)
Cotai First discounted round-trip package will be available at HKD 508 (including tax)

Campaign Period: 19 June – 29 July 2018
Applicable Sailing Period: 23-24 June, 30 June -1 July, 7-8 July, 14-15 July, 21-22 July, 28-29 July 2018

Terms and Conditions:
Passengers purchasing the Cotai Water Jet round-trip package via Cotai Water Jet official website Special Discount Zone section ("Eligible Passengers") are eligible for the Campaign.
City route refers to Hong Kong Macau Ferry Terminal to/ from Macau Taipa Ferry Terminal.
Each Eligible Passenger may purchase up to two (2) round-trip packages each time.
Eligible Passengers can purchase discounted round-trip package according to below selling period.
Eligible Passengers can purchase city route tickets starting at 09:00 AM on the first day of the selling period shown below, and the purchased tickets can be used in accordance with the applicable sailing period and available use dates below.
Selling period
Applicable Sailing Period
(City Route)
Earliest available use
Last available use
19th -23th June
23th-24th June
23th June
24th June
25th-30th June
30th June-1st July
30th June
1st July
3rd -7thJune
7th – 8th July
7th July
8th July
9th -14th July
14th – 15th July
14th July
15st July
16th -21th July
21th -22th July
21th July
22th July
23th -28th July
28th -29th July
28th July
29th July
This Campaign is subject to seat availability, with limited quantity, and on a first come first serve basis.
Above round-trip package are only applicable to designated sailing date and time.
All tickets purchased under this Campaign must be used on or before 29 July 2018.
For city route, Eligible Passengers shall present QR code at the gate no less than 10 minutes before departure; or Eligible Passengers shall redeem tickets by presenting the transaction number, the booking credit card and identification document at designated ticket counters no less than 30 minutes before departure.
The offers under this Campaign are not applicable to VIP room and cannot be used in conjunction with other offers.
No change, cancellation or refund is valid once ticket is issued.
The discounted ferry ticket cannot be upgraded to VIP cabin.
All ferry tickets which are altered or damaged will be void.
Cotai Water Jet will not be responsible for any lost or stolen ticket, and no reissuance of ferry ticket will be entertained.
This Campaign is subject to Terms & Conditions of Carriage of Passengers and Luggage.
Cotai Water Jet reserves the right to pause, change or terminate this event and other terms and conditions without notice.
Cotai Water Jet reserves the rights to make all final decision of this Campaign.
By participating in this Campaign, you authorize the Company to collect all personal data you provide us during your participation in this Campaign (including your name, address, email address, telephone number and any data related with your participation in this Campaign) (hereinafter the "Data"), for the purposes of the Campaign and for direct marketing purposes (in respect of our news, Campaigns and other services), to improve database segmentation and customization of marketing offers, for market research around consumer preferences and to conduct statistical and satisfaction surveys. In addition, you also expressly authorize the Company to share and disclose, in confidentiality, your Data with Venetian Macau Limited ("VML"), Las Vegas Sands Corporation ("LVSC") in the United States of America, Sands China Limited ("SCL") in Hong Kong and Marina Bay Sands ("MBS") in Singapore, any of its Affiliates (collectively "Sands") and with any third party service providers of any Sands' properties that has entered into a written agreement with Sands that is substantially similar to our privacy policy, for the above said purposes and so that you may be provided with more consistent and personalized experiences across Sands' properties. You acknowledge that the transfers authorized may constitute an international transfer of personal data and that the different jurisdictions where The Company, LVSC, SCL and MBS, affiliates and third party service providers are incorporated may have different data privacy laws and protections. You have the right to view your personal data, request additional information about its storage and processing require any necessary amendments, withdraw the consent herein or simply opt-out from receiving direct marketing materials from us, by either writing to us at Estrada da Baía de Nossa Senhora da Esperança, The Venetian Macao Resort Hotel, Executive Offices – L2, Taipa, Macau or by emailing us at privacy@sands.com.mo. Your personal data will be kept during your participation in this Campaign and for marketing purposes for the period of time that the sub-concession agreement that VML is a party to for the operation of games of fortune and chance in Macau is in force.
Eligible Passengers agree to the privacy policy as stated on https://www.venetianmacao.com/Company-Information/Privacy-Policy/
The English version of these Terms & Conditions shall prevail in case of discrepancy between the English and Chinese versions.
Cotai Water Jet Ticketing Counters:
Hong Kong Macau Ferry Terminal
Cotai Water Jet Ticketing Counter
(Shop 305D, Shun Tak Centre, 200 Connaught Road, Sheung Wan, HK)
Macau Taipa Ferry Terminal
Cotai Water Jet Ticketing Counter (Counter 1-15, Level 2)