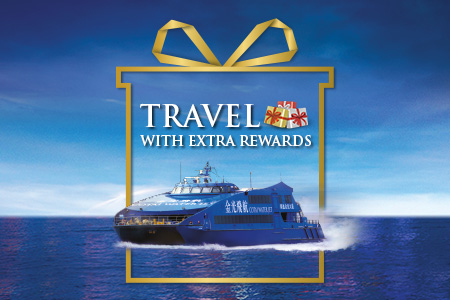 Passengers who hold Cotai Water Jet Cotai First/ VIP Cabin ticket or receipt (the "Passengers" or "Participants") can enjoy exclusive offer at designated merchants (the "Promotion").
Promotion Period: 1 October 2016 to 31 December 2016
The designated merchants are listed in the table below.
Terms and Conditions:
This Promotion only applicable to the Cotai First/ VIP Cabin tickets purchased and complete the sailing within the promotion period.
Passengers can enjoy the promotion offer at designated merchants within 7 days from the date of sailing (including the date of sailing).
Tickets must be presented to the merchant to receive the exclusive offer.
The list merchants may update from time to time without prior notice.
Terms & Condition apply to the promotion offer of the merchants. The merchants reserve the right on final interpretation and decision.
Participants are to accept and use the awarded products at their own risks. Cotai Ferry Company Limited and its affiliates expressly disclaim warranty of any kind, expressed or implied, statutory or otherwise, including but not limited to, merchantability, quality, non-infringement, condition, title or fitness for a particular purpose. Neither The Venetian Macau Limited nor any of its agents, subsidiaries, affiliates, employees or representatives shall have any liability for any loss, injury, expense, claim, malfunction, or damages of any kind in connection with or arising out of any use of the prizes awarded .
No change, cancellation or refund is valid once ticket is issued.
Cotai Water Jet will not be responsible for any lost or stolen ticket and no reissuance of ferry ticket will be entertained.
Cotai Water Jet reserve the right to change the terms and conditions at any time without prior notice.
This Promotion is subject to Terms & Conditions of Carriage of Passengers and Luggage.
Cotai Water Jet reserves the final rights to this Promotion.
Cotai Water Jet city routes refers to:
Hong Kong Macau Ferry Terminal to and from Macau Taipa Ferry Terminal
Hong Kong Macau Ferry Terminal to and from Macau Outer Harbour Ferry Terminal
Hong Kong China Ferry Terminal to and from Macau Taipa Ferry Terminal
Hong Kong China Ferry Terminal to and from Macau Outer Harbour Ferry Terminal
Cotai Water jet airport route refers to:
Hong Kong International Airport (SkyPier) to and from Macau Taipa Ferry Terminal
Hong Kong International Airport (SkyPier) to and from Macau Outer Harbour Ferry Terminal
Merchants information and terms & conditions
Merchant
Offer
Period
Terms & Conditions
CHOW TAI FOOK JEWELLERY CO., LTD.
1. Purchase any gold bar, gold badge can enjoy 20% off for the crafting & designing fee.
2. Purchase ONE designated jewelry with a discounted redemption price.
1 Oct – 31 Dec 2016
Customer present Cotai Water Jet VIP or Cotai First ticket can entitle the following offers:
1. Purchase any gold bar, gold badge can enjoy 20% off for the crafting and designing fee.
2. Purchase ONE designated jewelry with a discounted redemption price.
Promotion Period: 1 October 31 December 2016
Shop: All branches in Hong Kong and Macau
Remarks:
- This promotion can not conjunct with another other promotion. (including discount offer, Gold Club/Jewelry Club, installment and Choi Tai Fook cash rebate coupon)
- This promotion no applicable to corporate custom product.
- Chow Tai Fook reserve the right of final decision in case of any dispute.
Catalpa Garden, FADO and Lobby Lounge in Hotel Royal
1. 10% off on A-La-Carte at FADO and Catalpa Garden
2. Buy One Get One Free on selected cocktail "Royal Port & Tonic"
1 Oct – 31 Dec 2016
1. Passenger must present the ferry ticket receipt to entitle the discount offer in Catalpa Garden, FADO and Lobby Lounge of Hotel Royal.
2. This ferry ticket receipt is not valid after 7 from the date of travel.
3. The offers are non-transferable and are applicable to the above purchase of goods/services only. They cannot be redeemed for cash.
4. The offers cannot be used in conjunction with other offers.
5. The offers are not applicable to Food Festival Buffet at FADO and Lobby Lounge. The discount from Catalpa Garden is not applicable to VIP Rooms.
6. The offers are not applicable to Banquet or Special Functions.
7. Blackout dates apply. Kindly contact Catalpa Garden, FADO and Lobby Lounge for details.
8. Hotel Royal has the final decision in determining any disputes arising from these offers.
Macau Explorer Cultural Travel
20% off for the 2hours mini Tour
1 Oct – 31 Dec 2016
1. Enquiry hotline: (853)2856 5028
WeChat: (853)6532 3322
Email: info@macauexplorertravel.com
2. Reservation: Passenger have to make reservation 2 days before the trip.
3. Capacity: Received maximum 5 reservations daily
4. Cancellation policy: Cancellation have to make 24 hours before the trip. Macau Explorer will charge the cancellation which equivalent to 50% of the full fare
5. Routing: Customer may select their only route except the above routing.
(The route have to be finished within 2 hours)
6. Group combining: No group combining, and adding members during the tour
7. Others: Macau Explorer reserve the right to change the routing due to bad weather, traffics or any other reason.
8. Maximum carrying capacity: 5 passengers for 7 seats vehicle; 7 passengers for 9 seats vehicle
9. Luggage: Maximum carry 2 pcs large luggage (30 inches) or 4 small luggage (20inchs)
10. Others: Macau Explorer reserves the right of final decision in case of any disputes.
Casa de Tapas
15% off
1 Oct – 31 Dec 2016
1. This offer cannot be used in conjunction with other promotions or discount; and is not applicable to set menu.
2. Casa de Tapas reserves the right of final decision in case of any disputes.
Portugalia Macau
10% off
1 Oct – 31 Dec 2016
1. This offer cannot be used in conjunction with other promotions or discount; and is not applicable to set menu.
2. Portugalia Macau reserves the right of final decision in case of any disputes.
Planet J
10% off for the admission ticket purchase and/or magic scroll rental (60 minutes)
1 Oct – 31 Dec 2016
1. This promotion can not be conjuncted with any other offer at the same time.
2. Planet J reserves the right of final decision.
Golden Macau 3D Art Museum
50% off
1 Oct – 31 Dec 2016
1. This offer cannot be used in conjunction with other promotions or discount.
2. Golden Macau 3D Art Museum reserves the right of final decision in case of any disputes.
Macau Koi Kei Bakery (Hong Kong)Limited
10% off (airport)
1 Oct – 31 Dec 2016
1. This discount only available for Cotai Water Jet passengers
2. Each person can only use ONE ticket
3. This offer can not be used in conjunction with other offers or redeem for cash
4. This offer is not applicable to discount items.
5. Copy is invalid
6. Macau Koi Kei Bakery reserves the right to make the final decision